Hi to all,
I have what appears to be a CERTIFICATE related problem with OpenVPN configuration with my synology NAS Server.
The problem I have is this:
opensslcontext::ssl::read_cleartext:bio_read failed, cap=2576 status=-1: error:1416fo86:ssl routines:tls_process_server_certificate:certificate verify failed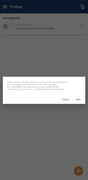 I followed this tutorial to set up the server:
https://youtu.be/qbfa-YVUfls[/url]
As in result I have:
Installed succesfully the server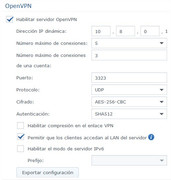 Opened and tested the router ports (3323 also tested with default port)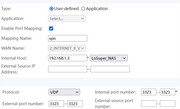 Exported the OpenVPN conf file and changed YOUR_SERVER_IP with my ddns name and all my certificates are valid and in use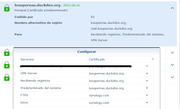 Turned OFF the server firewall to test purposes only
Installed the client both on windows and android
I've search all the forum entries and I think I've tried everything, even using other phones (allways out of my network ofcourse), creating new users, start from scratch several times, and I don't know what to do more, it appears to be all OK but keeps failing.
Any help please?